Equipment Used for Petrography and Thin Section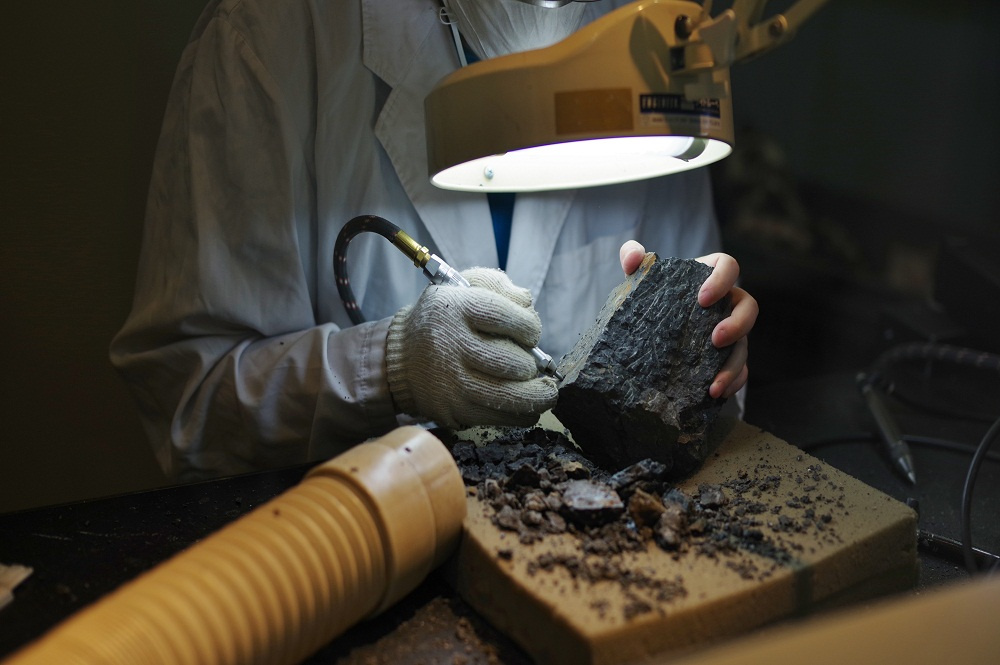 A thin section is a laboratory preparation of a rock, bone, soil, pottery, mineral, or metal sample for petrography, optical mineralogy, polarization microscopy, and microstructural analysis. A sliver is cut from the specimen with a diamond saw, mounted on a glass slide, and then ground and polished smooth until it's only 30 micrometers thick.
Thin section preparation is done to investigate and draw out information from the optical properties of the minerals in the rock. This part of petrology may even help reveal the origin and evolution of the parent material.
Inside their laboratories, experts use an array of equipment during their research. Continue reading to learn more about them.


Geological Cutting Machine
A geological cutting machine (GEOCUT) is used for thin sectioning rocks, glasses, ceramics, minerals, concrete, etc. It has a cast aluminum base, which houses the motor and the working space. A large window made of a polycarbonate resin thermoplastic and a sealed 12-volt lamp in the chamber allow an explicit observation of the process.
Meanwhile, a feed table on the working space can accommodate various clamping devices, perfect for small or irregularly shaped rocks. It also provides a long travel depth, making the equipment ideal for sectioning long and deep samples in one pass. An X-Y cross table is available for serial and parallel cutting.
To ensure its performance, the GEOCUT has a cooling system; two jets are located on the side of the cut-off wheel that provide and recirculate cold water. This equipment has the highest safety standards. It has an interlocking device that doesn't allow the motor to start unless the hood is closed.


Precise Cutting and Grinding Machine
In thin section preparations, laboratories with thin section services also use a precise cutting and grinding machine (GEOFORM). It's a top-notch instrument that can cut and grind down samples into 30 microns or less, depending on the toughness of the material.
On the GEOFORM's cutting module, the sample is fixed on a holder with a vacuum and then sectioned up to 0.5 mm. The cooling system of the device prevents deformation during the process.
For the user's safety, the machine is equipped with an emergency stop button. The compartments for both cutting and grinding are enclosed with a transparent, impact-resistant cover. They also have a magnetic safety switch, which doesn't allow the motor to start unless the lid is closed. If it's open, the operation automatically seizes.


Grinding and Polishing Machine
Petrographic thin sections use a grinding and polishing machine called FORCIPOL-TS. It can accommodate 300 mm diameter wheels that have speeds between 50 to 600 RPM.
The wheel is powered by a high torque 1.0 HP electric motor capable of both clockwise and counterclockwise rotation. They're mounted on ball bearings, allowing the exertion of high pressure to section even large samples in a quiet and vibration-free operation.
Other laboratories use high-quality discs with wheels. They're fixed on a heavy-duty aluminum alloy casting, and by utilizing them, the grinding, lapping, and polishing processes are also carried out smoothly. Cool water inlet and flexible outlets with control valves for wet grinding are standard features. They're automatically activated and deactivated at the start and end of every operation.


Automatic Specimen Mover
In laboratories, FORCIPOL-TS is often coupled with an automatic specimen mover (FORCIMAT-TS). When the button is pressed, both instruments start simultaneously.
FORCIMAT-TS is powered by a 100-Watt direct current motor and has an adjustable speed of 25 to 50 RPM. This allows for a long operation time and high torque for large samples. It's equipped with a user-friendly turn knob and touchpad, making it easy to control the settings and eventually increase productivity rates.
All processes, plus the finishing operations, are performed on the machine without any need for the standard handheld grinding. The automation allows the stable production of thin sections, ensuring that each has an even thickness. But, although automatic, FORCIMAT-TS can be operated in manual mode when needed to enable the preparation of specimens by hand.
Are you in need of a
petrographic thin sections service? Get in touch with National Petrographic. As the best in the field of petrography, their team of experts is knowledgeable about what they do, using only top-notch and high-quality equipment in their operations.